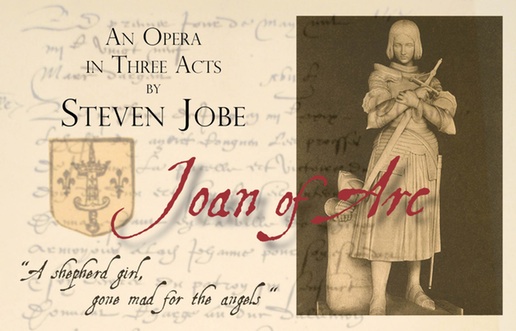 Joan of Arc, an opera by Rhode Island composer Steven Jobe, was produced the first time as a fully-staged opera in May, 2010 at the Blackstone River Theatre in Cumberland, RI.
Tess Wakim, who enjoys an internationally successful career as soloist in the opera, oratorio and chamber music, played Joan of Arc. Jason McStoots, a renowned vocalist from the Boston area, played the Dauphin.

Teresa Wakim

Jason McStoots
The opera's composition is a compelling blend of old and new -- medieval melodies and harmonies in a context of modern tones and instrumentation. Two exotic instruments are included in the score: ' Cloud Chamber Bowls' (unpitched glass bells) developed by composer Harry Partch, and the ' Drone Machine,' a 7-foot long hurdy-gurdy type instrument developed by Steven Jobe.
Reviews
Channing Gray
(Providence Journal, Thursday, May 20th 2010)
"The music is fresh and tuneful, with catchy melodies and more than a few exotic colors." The review continues, "Boston-area tenor Jason McStoots took on the role of the Dauphin, the crown prince of France, and sang wonderfully. And soprano Teresa Wakim, the opera's Joan, sang sweetly at the end of the first act, in one of the more touching arias of the show."
Bill Rodriguez
(The Providence Phoenix, Thursday, May 20th 2010)
"What beautiful voices and music in this event. Steven Jobe's Joan of Arc: An Opera In Three Acts is at once ambitious and quite modest, but vocally and musically it remains a pleasure throughout its three brief acts at the Blackstone River Theater in Cumberland."
Kathie Raleigh
(Woonsocket Call, Thursday, May 20th 2010):
"…Jobe's music is heraldic, mournful and occasionallly both at the same time. The full orchestra sounded lovely, but unusual combinations of instruments, like mandolin and bassoon, or trumpet and drums, created emotional points. A signature motive played initially by trumpeter Bruce Hopkins echoed throughout the work. Instruments like music director Mark Davis' mandolin, a harmonica, bagpipes and a hurdy-gurdy contributed to the medieval sound, and a huge drone machine—pulled dramatically into the small hall for Joan's execution—kept things interesting."